ACTA TECHNICA CORVINIENSIS
– Bulletin of Engineering
e-ISSN: 2067-3809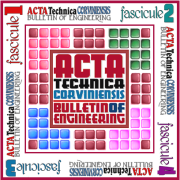 Address:
UNIVERSITY POLITEHNICA TIMISOARA
FACULTY OF ENGINEERING HUNEDOARA

5, Revolutiei , 331128, HUNEDOARA,
ROMANIA

phone: +4 0254 20 75 88
e-mail: redactie@fih.upt.ro
All manuscripts must be submitted using the format outlined in the Instructions to Authors. Please read the guidelines carefully. This guide describes how to prepare contributions for submission. These instructions are written in a form that satisfies all of the formatting requirements for the author manuscript.
A manuscripts which are not properly formatted according to the ACTA TECHNICA CORVINIENSIS – Bulletin of Engineering's instructions, contains illegible figures, graphs or equations, or suffers from weak writing will be not considered for any review and will be automatically rejected or returned to the authors to correct the minor problems before the submission will be processed.
If in doubt about the suitability of a manuscript for the ACTA TECHNICA CORVINIENSIS – Bulletin of Engineering, authors are encouraged to contact the editorial office (redactie@fih.upt.ro) for advice prior to submission.

General guide destined to the authors for preparing the MS-Word type manuscripts are available here:
Guidelines for
ACTA TECHNICA CORVINIENSIS
– Bulletin of Engineering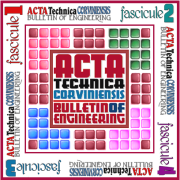 The basic instructions and manuscript requirements are simple:
— The manuscript should be organized in the following order:
Title of the paper, Authors' complete names and surnames, Affiliation, Abstract,
Key Words, Introduction, Body of the paper (in sequential headings), Conclusion, Acknowledgements (where applicable), References, and Appendices (where applicable)
— Manuscript shall be formatted for an A4 size page.
— The all margins (top, bottom, left, and right) shall be 20 mm.
— The text shall have both the left and right margins justified.
— Single-spaced text, tables, and references,
written with 11-12-point Georgia or Times Roman typeface.
— No Line numbering on any pages and no page numbers.
— Manuscript length must not exceed 15 pages
(including text and references).
— Number of figures and tables combined must not exceed 20.
— Manuscripts that exceed these guidelines
will be subject to reductions in length.
Any other formatting complicates editing of the manuscript.
All submitted papers should be written in English (British or American English, but consistently throughout the manuscript). All the submissions will be peer-reviewed by the panel of experts associated with journals. Once a manuscript has been accepted for publication, it will undergo language copyediting, typesetting, and reference validation in order to provide the highest publication quality possible. Authors may contact for expression of interest and content appropriateness at any time. Since we receive papers in continuous flow, there is no deadline for manuscript submission.
ACTA TECHNICA CORVINIENSIS – Bulletin of Engineering invites the researchers from around the globe to submit their papers that meet the criteria of scientific excellence for publishing in forthcoming issues.
We are extremely grateful and heartily acknowledge the kind of support and encouragement from all contributors and all collaborators!
Promotional Flyer for
ACTA TECHNICA CORVINIENSIS
– Bulletin of Engineering


copyright © University Politehnica Timisoara, Faculty of Engineering Hunedoara,
5, Revolutiei, 331128, Hunedoara, ROMANIA